© 2015 Asian Trail Explorers

BIB
Your BIB number is essential. You will receive
your BIB before the event. On race day make sure
that your BIB is clearly visible on your chest. Don't
attach your BIB at your back or backpack. Your
BIB should be visible at ALL times. Participants
without a BIB will be disqualified.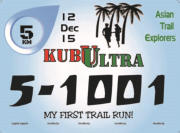 Mobile phone
You need to be in the possession of a device that enables you to contact
the emergency services and pinpoint your location using GPS.
Provided that a signal for the mobile phone is available,
communication between you and the organisers should be possible.
We understand that some participants bring a phone which is not able to
determine GPS locations. However if you are using a smartphone, we highly
recommend you to download a GPS positioning app.


Hydration bladder or bottle or cup
Although you are supposed to be self-sufficient, indeed there are several water
stations along the track. Some of them are quite a distance from each other –
not necessarily in distance but in time. We are convinced that you will need
fluids along the way. Only hydrating yourself in the drink stations will surely be
insufficient for a good performance.
The drink stations will have only bulk supply of fluids.
There will be NO individual
bottles, neither cups.
You can quench your thirst in the drink stations by
using your OWN cup
. Of
course you can fill up your bottle or hydration bladder as well.


Whistle
A whistle is used to signal others that you are in distress and need assistance. It is also used to
answer signals from those in distress. Shouting, yelling, and other forms of vocal alerting do not
have the same range and require a much more fatiguing effort than blowing on a whistle.
Your whistle has to be attached to a lanyard and be easily reachable. You can wear it around your
neck or attach to your belt or any other part of your clothing. Having a whistle in your backpack
won't help you much if you can't reach your backpack during an emergency.


Rain gear
A poncho or a rain coat is certainly not a luxury during a trail running or hiking
event. Although the rain might be refreshing for a while, if it continues to rain,
there is a risk of hypothermia. Wearing a wet singlet or T-shirt while being
exposed to the rain will not contribute in keeping your body warm.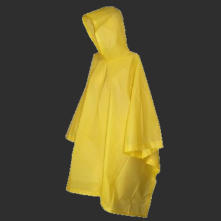 Emergency blanket
Weather conditions may change rapidly and temperatures might drop
dramatically in case of heavy downpour.
An emergency blanket can be a life saver in case of injury or hypothermia. It
should be an essential item in the backpack of every hiker and trail runner.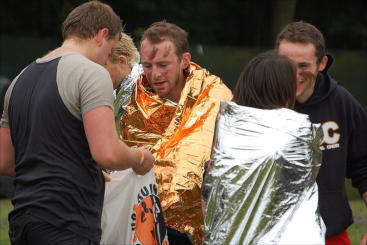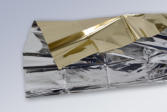 Rehydration salt
While sweating the body is losing valuable minerals. An imbalance of the mineral
salts in your body might result in fatigue, cramps and other physical discomfort.
You can replenish this shortage with isotonic drinks which will be provided
during the race at certain Drink Stations (DS). However you might be some
distance from the next drink station when you encounter discomfort. Dissolving
a sachet of rehydration salts in water or pouring the powder directly into the
mouth might prevent serious issues.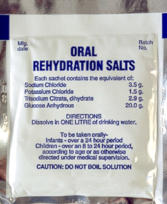 First aid kit
The chance that something might happen to you in front of the first aid stations
on the trail is almost nil. You must be able to attend to yourself in such manner
that you can reach the first aid station for further medical evaluation and
treatment.
We understand that everybody tries to minimise the content of the first aid kit,
but always keep your own safety in mind.
The minimum content of your first aid kit however should be:
•
small amount of antiseptic cream or lotion
•
plasters (ordinary and butterfly/skin closure strips)
•
a few anti-histamine tablets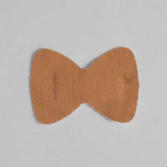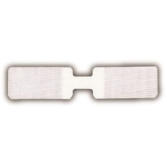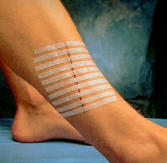 Headlamp
Although a headlamp is only mandatory item for the 60 km participants, we
strongly advise all 40 km participants and recommend all 20 km and 10 km
participants to bring along a headlamp.
All participants of the 5, 10, 20, and 40 km events are expected to be out of the
jungle before nightfall, but even a minor injury like a twisted ankle may cause
delay for several hours. A responsible hiker and trail runner should consider a
headlamp as one of the major items in a standard equipment.